Ondernemen is je gegevens of niet. Toch zijn er ook zaken die je daar in kunt leren. Manageable ondersteunt ondernemerschap op drie manieren.
Starten met ondernemen
Waar denk je aan bij het starten van je onderneming? Welke zaken dien je te regelen? Als je alles al een keer gedaan hebt is het makkelijk. Er zijn meerdere keuzes zowel op juridisch gebied en ook op persoonlijk gebied. Het belangrijkste is dat je zelf weet waarom je het doet. De reden dat je geen baas meer hebt is daarin de minst goede. Als ondernemer heb je 24 uur per dag een baas: jezelf. Presteren is geen vraag het is een essentieel onderdeel van je leven op dat moment.
Tijd om meer te weten over starten met ondernemen? Neem contact op starten met ondernemen!
OndernemersSpiegel
We geloven niet in een ondernemerscoach. We geloven in spiegelen van ondernemers. Het begeleiden van ondernemers is alleen weggelegd voor ondernemers. Daarbij mogen we wel zeggen dat de ondernemers die hierin begeleiden aan drie criteria voldoen:
Meer dan 5 jaar ondernemer, ze zijn de kritische fases allemaal door;
Meer dan 1 miljoen omzet per jaar gegenereerd;
Meer dan 10 mensen mogen aansturen;
Het is dan dus een spiegel in plaats van coaching. Immers er wordt gespiegeld aan een referentiekader met ervaring. De kennis en ervaring wordt gedeeld.
Tijd om meer te weten over ondernemerscoach? Neem contact op met ondernemerscoach!
Groei van de onderneming
Een onderneming laten groeien en door de ondernemingsfase heen nemen is een vaardigheid. Ervaring is daarbij een middel om de fase door te komen. In de tweede fase, de groeifase van ondernemingen zijn er drie zaken belangrijk.
Allereerst het afscheid nemen van de idee en pioniersfase. De overgang van fase 1 naar fase 2 dient door een duidelijk plan en met een geijkte focus plaats te vinden. Gekoppeld aan de betrokkenheid en zorg voor de mens die het dient uit te voeren.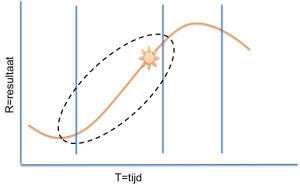 Het tweede deel is de vaart erin houden door naast het plan te hebben hier ook aan te werken. Daadwerkelijk de stappen zetten en door middel van het zetten van de stappen ook de groei bewerkstelligen. De afleidingen uit blijven schakelen en gestaag doorwerken met aanpassing aan de markt.
Als derde is (zoals in de grafiek hiernaast het sterretje aangeeft) het moment waarop je eigenlijk het bedrijf klaar dient te maken om de koers te bekijken. Het moment van verzadiging ontstaat. Verzadiging in het aantal klanten of plafond aan de groei. Tijd om de basis te bekijken en door middel
Filosofie van het Melkkrukprincipe
De basis filosofie is die van het boeren ondernemersverstand. Het symbool hierbij is het melkkrukprincipe. Een onderneming bestaat uit drie poten, die allen even lang en in balans dienen te zijn. De drie onderdelen zijn:
Sales – het gevoel van de organisatie, de uitstraling en het beeld.
Financieel – de resultaat kant van de organisatie, de doelen en structuur.
Operationeel – de proces kant van de organisatie, de manier van werken en kwaliteit.
Kortom een simpele analyse over hoe een bedrijf ervoor staat.