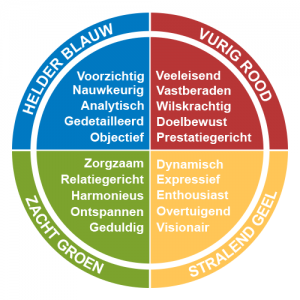 Insights Discovery gebruikt een eenvoudig en toegankelijk kleurenmodel om inzicht te krijgen in de unieke persoonlijke voorkeuren van mensen. De voorkeuren worden aan de hand van een korte online vragenlijst gemeten. De antwoorden daarop resulteren onder meer in een persoonlijk profiel van tenminste 20 bladzijden, waarin de individuele kwaliteiten en ontwikkelpunten in kaart worden gebracht. Het profiel laat zien dat individuele personen, teams en organisaties aan kracht kunnen winnen door de verschillen tussen mensen te onderkennen en te waarderen.
Wat levert Insights Discovery op?
Insights Discovery helpt u om in kaart te brengen wie u bent en hoe u reageert op mensen en situaties. Dankzij de diepgang van het model kan Discovery u naar verrassende nieuwe inzichten leiden. Of het nu gaat om individuele coachingstrajecten en teamontwikkeling of om het versterken van verkoop- en leiderschapsvaardigheden, de mogelijkheden zijn eindeloos.
De kleurentaal van Discovery heeft direct impact en gaat leven binnen een organisatie. Zo wordt het gemakkelijker om een blijvende positieve verandering te bewerkstelligen.
De oplossingen van Insights zijn:
Eenvoudig: gemakkelijk om te begrijpen zodat iedereen het geleerde kan toepassen.
Universeel: ze spreken iedereen aan – uw hele organisatie wordt meegenomen in de kleurrijke wereld van Insights.
Verrassend verhelderend: ze reiken u onverwachte en ongekende inzichten aan.
Positief: de Discovery taal is zo inspirerend dat mensen zich gesterkt voelen om hun aanpak te veranderen.
Leuk!: het kleurensysteem is pakkend en blijft echt hangen.
Wat heeft Insights Discovery persoonlijk opgeleverd?
Het profiel en de materie van Insights Discovery levert persoonlijk de volgende zaken opgeleverd:
Inzicht in jezelf, door het uitgebreide profiel met valkuilen, communicatie voorkeuren, leerstijlen en gedrag voorkeuren;
Inzicht in andere door oplettend te zijn op het gedrag van de ander;
Verbeterde communicatie door communicatie vanuit de ander;
Verbeterde sales vaardigheden door bewustwording van eigen valkuilen en verkoop communicatie vanuit de ander;
Betere management en leiderschapsvaardigheden verkregen door begrip vanuit de kleuren;
Een betere trainer worden door makkelijker te kunnen schakelen;
Kortom een sterke ondersteuning in de persoonlijke ontwikkeling. Zelf hier meer van weten of meer kennis in opdoen? Laat het weten. Of bekijk het bijgaande voorbeeld profiel. Natuurlijk kun je ook meer te weten komen via Insights Benelux.